Dear Parent/Guardian,
Your child will be going on a field trip soon. If you are interested in going on your child's field trip, you must go online and complete a volunteer application before you can attend.
Please go to the following link: www.ee.redoakisd.org
Go to links on the right hand side and click on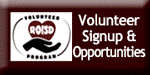 The application process is fast and easy; it will take just a few minutes to complete. Please do this as soon as possible.